Frosty Garibaldi
In 1861, upon the outbreak of the American Civil War, Giuseppe Garibaldi wrote to Abraham Lincoln and then US Secretary of State William Seward to offer his services to the Union cause. Garibaldi, a celebrated General whose military campaigns in Europe are credited with helping to bring about a unified Italy, had only one condition - that he be made Commander In Chief of the entire American military.
This is the man whose name hangs over the peak jutting above Squamish and the sprawling provincial park home to some of the best skiing, hiking, scrambling and climbing on the planet.
Also named after him, the Garibaldi, a cocktail that, apparently, represents the bringing together of northern and southern Italy in the form of Campari (from Milan in the north) and oranges (from Sicily in the south).
I figured, what better place to test this cocktail out than below the flanks of the mountain that shares it's name.
Ingredients (per drink):
2 oz Campari
3-5 oz Orange Juice, as fresh as you can get
Snow, as clean and fresh as you can find (optional)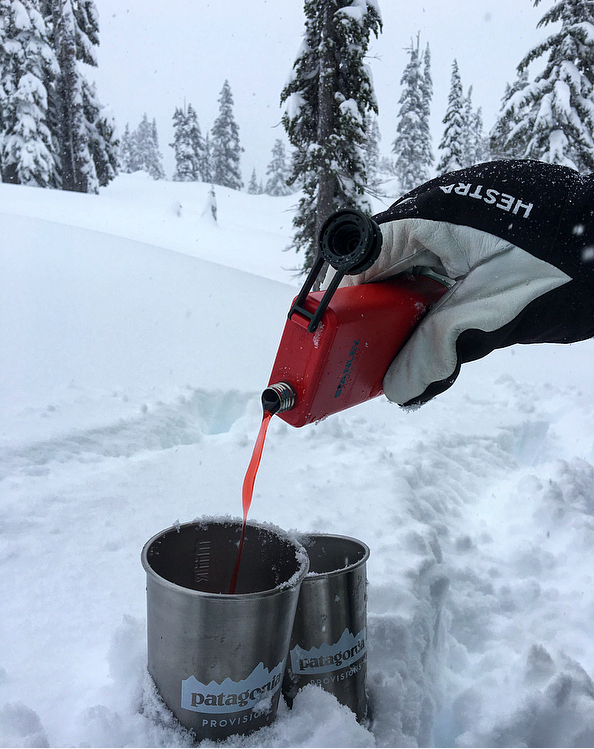 Bring the Campari in a flask and pack some cups or mugs. Toss a bit of snow in each cup, top with Campari and orange juice, add more snow to get a sort melted-slurpee/Orange Julius consistency. Drink.
P.S. The traditional Squamish name for Mount Garibaldi is Nch'kay. Given that Garibaldi, despite having a pretty tasty drink named after him, never stepped foot anywhere near the mountain, it's definitely a better name for the peak/park. Read some more about that here.